Our Farm is now CLOSED for the season. Thank you to everyone who made it out.
Fall Market
Fall on our farm is the most beautiful time of year. Trees are changing, pumpkins become pies, corn maze adventures, crisp apples (from Wheelbarrow Orchards), family time, crop harvest and so much more. 
2018 FALL HOURS AND ADMISSION PRICES WILL BE POSTED AUGUST 2018.
What you can expect to find at our farm in the FALL:
Baked Goods from our friends at Harvest Goodies in Milton. Tarts & Pies, oh my!
GARLIC!  Ontario hardneck, grown right here!

CORN MAZE FUN

! Get Lost and take the GOLDEN CORN COB challenge.
PUMPKINS, PUMPKINS AND MORE PUMPKINS.

 
WHAT TO KNOW BEFORE YOU VISIT!
We are a small family farm and want to give you and your family a simple fall farm experience. Please keep your dogs at home.
We accept cash, MC/Visa/ debit.
No Smoking at all in the corn maze/pumpkin field or around any buildings.
If you plan to come with a large group, we'd love to know ahead of time.
No BBQ-ing- we're not a camp ground.
for more click here.
As of 2017 there are NO Dogs allowed on the farm.
Strollers or Wagons are not suitable for the Corn Maze.  Maze Paths are bumpy and can be tricky at some spots, please enter at your own risk. You must stay on the path and do not enter into the corn.  These rules and more are posted at the Corn Maze admission tent.
 
2017 Corn Maze:
Photo coming soon.
2016 maze: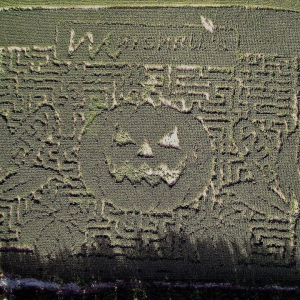 2015 corn maze design: