Fall Market
Fall on our farm is the most beautiful time of year. Trees are changing, pumpkins become pies, corn maze adventures, crisp apples (from Wheelbarrow Orchards), family time, crop harvest and so much more. 
2017 Fall Hours:
OPENING SEPTEMBER 30th- OCTOBER 31st
Thursday & Friday 12pm-6pm
Saturday's and Sunday's 10am-4pm
Special Hours: Thanksgiving Monday 10am-4pm
October 30th and 31st 10am-4pm
FALL LOCATION – 28TH SIDEROAD. Take First Line Nassagaweya or Second Line Nass. to get to 28th sideroad. We are the only farm on the North side of the road…plus you can't miss it with our MARSHALL sign. OR plug 28 sideroad, Milton into any GPS. GOOGLE MAP LINK.
2017 Corn Maze Admission:
3 years  and up $5 per.person
Any groups bigger than 10 please email to book.
There is no admission for the u-pick pumpkins or corn maze obstacle course. 
What you can expect to find at our farm in the FALL:
Baked Goods from our friends at Harvest Goodies in Milton. Tarts & Pies, oh my!
GARLIC!  Ontario hardneck, grown right here!

Apples from Wheelbarrow Orchards.

 

CORN MAZE FUN

!  This year we are celebrating CANADA with a Canada 150 maze design.
GOLDEN CORN COB CHALLENGE in the Corn Maze: Find all 4 missing Golden Corn Cobs!
PUMPKINS, PUMPKINS AND MORE PUMPKINS- 

2017 is looking to be a great year for our pumpkins. Pick your own or grab one from our displays. Prices start at $1.00 and up. 
WHAT TO KNOW BEFORE YOU VISIT!
We are a small family farm and want to give you and your family a simple fall farm experience. Please keep your dogs at home.
We accept cash, MC/Visa/ debit.
No Smoking at all in the corn maze/pumpkin field or around any buildings.
If you plan to come with a large group, we'd love to know ahead of time.
No BBQ-ing- we're not a camp ground.
for more click here.
As of 2017 there are NO Dogs allowed pass the parking lot. If you bring them, we kindly ask that they stay in the parking lot. This has been a hard decision to mark. Thanks for understanding. 
Strollers or Wagons are not suitable for the Corn Maze.  Maze Paths are bumpy and can be tricky at some spots, please enter at your own risk. You must stay on the path and do not enter into the corn.  These rules and more are posted at the Corn Maze admission tent.
 
2016 maze: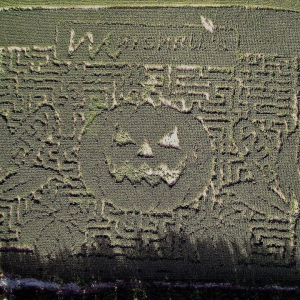 2015 corn maze design: